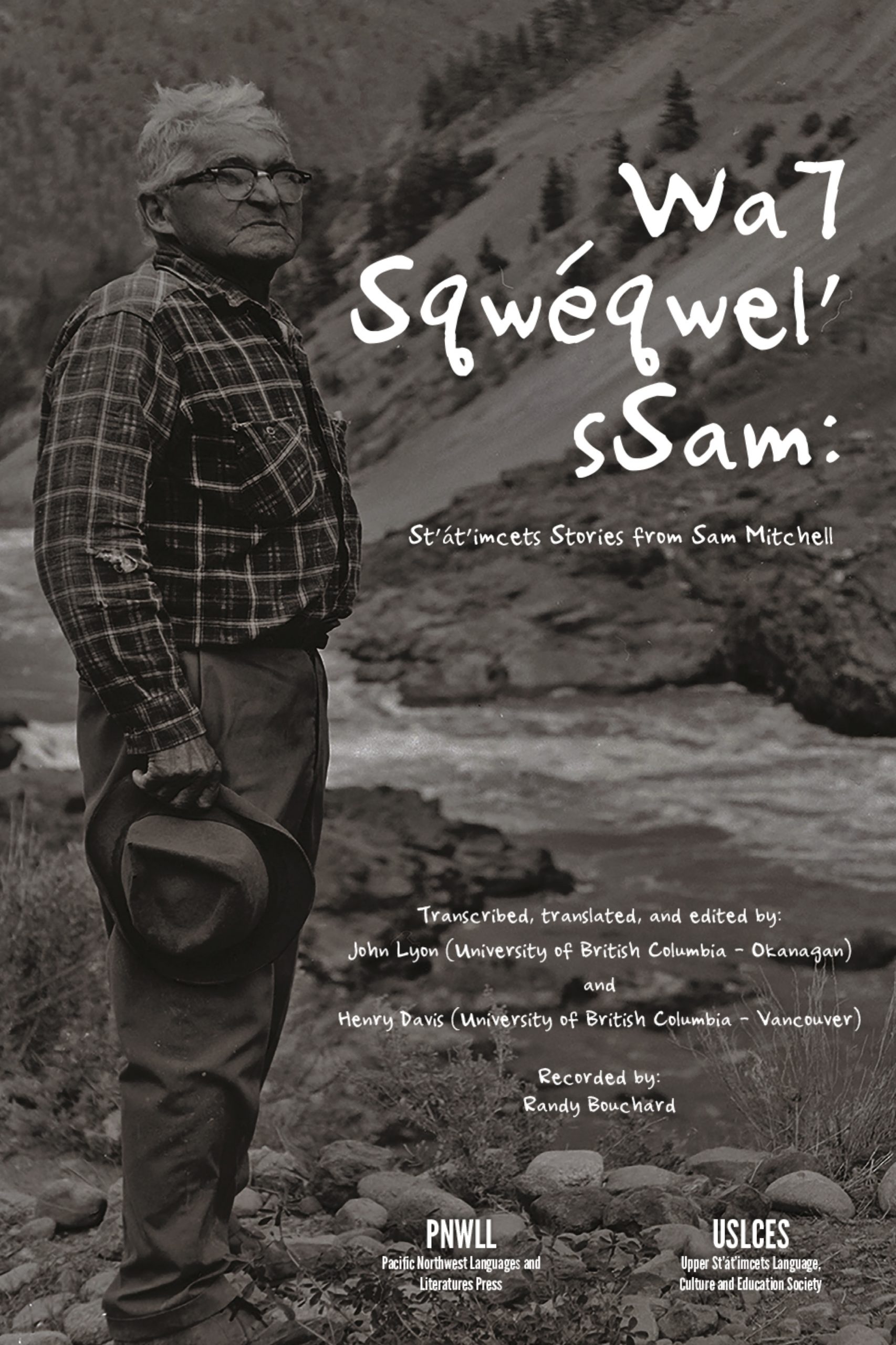 We are very pleased to announce the release of our latest book Wa7 Sqwéqwel' sSam: St'át'imcets stories from Sam Mitchell. This volume features historical narratives, personal anecdotes, and descriptions of traditional practices, as told by Sam Mitchell in St'át'imcets between 1968 and 1973. These narratives, originally recorded by Randy Bouchard, have been transcribed and translated by John Lyon (UBC-Okanagan) and Henry Davis (UBC-Vancouver). There are 15 narratives in all, accompanied by maps and a series of pictures. Each narrative is presented in the original St'át'imcets, in an English translation, and finally as a fully analyzed text featuring a detailed interlinear gloss.
We hope this volume will be valuable for advanced language learners and teachers, as well as linguists and anyone with an interest in Salish languages and culture.
This volume is the third in a series of Upper St'át'imcets texts, jointly published by PNWLL Press (formerly UBCOPL) and the Upper St'át'imc Language, Culture and Education Society (USLCES), and the first in a series of three volumes covering the recordings of Upper St'át'imcets made by Randy Bouchard between 1968 and 1973.
Paperback volume, 637 pages, $45 CAD/$25 CAD for community members
ISBN 978-0-88865-481-6
(Please contact us at ubcwpl@gmail.com for the discount password if you do not have it.)
Download audio:
Sam Mitchell's speech at the 1971 ICSL
Chapter 1: The Drifters
Chapter 2: Indian Doctors and Professional Hunters
Chapter 3: Transporting Goods in the Early Days
Chapter 4: Cattle Drive
Chapter 5: Ntsáqwemlha7
Chapter 6: Big Frank
Chapter 7: The Outlaws
Chapter 8: Johnny Milgaw
Chapter 9: Childhood Memories
Chapter 10: The Sasquatch
Chapter 11: Underground homes in the Lillooet-Fountain Area
Chapter 12: Building Cottonwood Canoes
Chapter 13: Tanning Hides
Chapter 14: Fishing in the Lillooet Area
Chapter 15: Indian Hellebore