Welcome to the UBC Linguistics webstore. Here you can purchase print volumes published by the UBC Occasional Papers in Linguistics, as well as previous volumes of UBC Working Papers in Linguistics. You can also order digital resources for UBCWPL and OPL, including audio files; all digital files are free to download.
For information on who we are, shipping, or resources for authors, click the dropdown "About us" in the navigation menu above.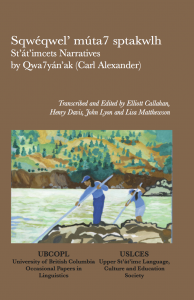 Our newest publication is Sqwéqwel' Múta7 Sptakwlh: St'át'imcets Narratives by Qwa7yán'ak, published jointly by UBCOPL and USLCES. This book is a collection of 18 narratives told by Qwa7yán'ak Carl Alexander, originally recorded in St'át'imcets (Lillooet Salish) over several years. The stories are presented in St'át'imcets first, then English, and finally in interlinear gloss; maps are included in both the print and PDF versions. The paperback volume is available for purchase, and the PDF and original recordings are available for download free of charge.