Welcome to the UBC Linguistics webstore. Here you can purchase print volumes published by the UBC Occasional Papers in Linguistics, as well as previous volumes of UBC Working Papers in Linguistics. You can also order digital resources for UBCWPL and OPL, including audio files; all digital files are free to download.
For information on who we are, shipping, or resources for authors, click the dropdown "About us" in the navigation menu above.
How to order backlist volumes
If you would like to order a physical copy of a backlisted volume, please contact us first to check availability.
Our newest publication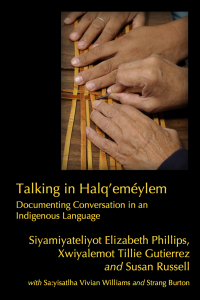 Talking in Halq'eméylem: Documenting Conversation in an Indigenous Language takes the innovative approach of using Conversation Analysis to look at the structure of a natural conversation between two fluent speakers of Halq'eméylem. The conversation is presented twice, once with CA notation, and again with an interlinear gloss. The volume also includes a prologue in Halq'eméylem, a forward by Marianne Ignace, and a brief overview of the language by Strang Burton.
Available to order here.